A cookie is a small file that is sent to your computer when you visit a website. Cookies are used to store information about you and your preferences. Netflix uses cookies to remember what you have watched and what you want to watch.

They also use cookies to track how long you have been a member, what type of device you are using, and where you are located.
How to get and use netflix cookies in PC?100% working cookies
Netflix cookies are small text files that are downloaded to your computer or mobile device when you visit the Netflix website. They are used to store information about your preferences and help us provide a personalised experience when you use our site. You can find out more about how we use cookies in our Privacy Policy.

If you want to delete or disable cookies, please refer to your browser settings.
Best Netflix Cookies Website
There are a lot of websites out there that offer cookies for Netflix. But, which one is the best? Here is a list of the best Netflix cookies websites:

1. Flixstercookies.com: This website offers a variety of cookies, including those for different regions. They are updated frequently and have a wide selection. 2. Allflickscookies.com: This website offers cookies for all countries, including the United States, Canada, Australia, and more.

They are also updated frequently and have a wide selection. 3. Justflixeditcookies.com: This website offers only cookies for the United States region. However, they are updated very frequently (almost daily) so you will always have the latest cookie information.

4. Unblock-us-netflix-proxy-listcookies .blogspot .com : This blog provides detailed instructions on how to create your own cookie for Netflix so you can watch from any country.
Netflix Cookies Updated Every Hour
In order to keep up with the demand for new content, Netflix is constantly updating their cookies. This means that every hour, there are new cookies being made available for users to enjoy. This also means that if you're trying to binge-watch a show or movie, you'll need to make sure you have the most recent cookies in order to keep up with the latest episodes.

Thankfully, we've got you covered. We'll be updating this post every hour so you can always be sure you're getting the newest Netflix cookies. So what are Netflix cookies and how do they work?

Cookies are essentially bits of code that are stored on your computer or device when you visit a website. When you revisit that website, the cookie allows the site to recognize your device and provide you with customized content. In the case of Netflix, these cookies allow the site to keep track of your watching habits and provide you with tailored recommendations based on what you've watched in the past.

Now that we've got a basic understanding of how they work, let's get into how to use them. First off, it's important to note that these cookies will only work on devices that have been authorized by Netflix.
Netflix Cookies Generator
What are Netflix Cookies? Netflix cookies are essentially pieces of code that allow you to bypass the login process on the Netflix website and gain access to someone's account without needing their password. While this may sound like a handy way to get around the need to pay for a Netflix subscription, it should be noted that using someone's account without their permission is considered theft and is punishable by law in many countries.

How do Netflix Cookies work? In order for the cookies to work, you first need to obtain them from a source. Once you have the cookies, you can then input them into your web browser and visit the Netflix website.

If the cookies are valid, you will be taken directly to the person's account page where you can start streaming movies and TV shows. Are there any risks associated with using Netflix Cookies? Yes, there are definitely risks involved in using someone else's Netflix account without their permission.

For one, if the owner of the account notices unusual activity on their account they could report it to Netflix which could lead to your IP address being banned from accessing Netflix entirely. Additionally, if you're caught stealing someone's login credentials you could face legal repercussions depending on where you live.
Netflix Cookies Reddit
Netflix Cookies are a type of cookie that is used to access Netflix content. They are designed to be used with the Netflix website and are not meant for general use. There are a few different ways to get Netflix Cookies, but the most common is through third-party websites.

These websites typically offer a variety of cookies that can be used for different purposes, including accessing Netflix content. The cookies usually last for a set period of time and then expire, at which point they will need to be refreshed. Some people have found ways to keep the cookies active longer, but this is not recommended as it could lead to account bans or other issues.
Netflix Cookies Telegram
If you're looking for a way to get Netflix without having to pay, then you may be interested in using Netflix cookies. Cookies are small pieces of data that websites store on your computer. When you visit a website, the cookies are sent to the site's server.

The server then uses the information in the cookie to provide you with customized content or services. In the case of Netflix, cookies can be used to give you access to the site without having to pay for a subscription. There are a few different ways to get Netflix cookies, but one of the easiest is through Telegram.

Telegram is a messaging app that allows users to share text, photos, and videos with others. You can also create groups and channels where people can join and discuss various topics. To find Netflix cookies on Telegram, simply search for "Netflix Cookies" in the app's search bar.

You'll see a variety of results from different sources. Simply choose one that looks reputable and click on it. Once you're in the group or channel, scroll through until you find a post with an attached cookie file.

Download this file and open it in your browser. You should now have access to Netflix!
Netflix Cookies Chrome Extension
There are a lot of ways to watch Netflix. You can use the Netflix app on your phone or tablet, you can log into the Netflix website on your computer, or you can use a streaming device like a Roku or Chromecast. But what if you want to watch Netflix on a different computer?

Maybe you're at a friend's house and they don't have Netflix, or maybe you're traveling and don't want to lug around your laptop. That's where the Netflix Cookies Chrome Extension comes in handy. With this extension, you can login to any computer and stream Netflix, without having to enter your username and password.

All you need is the extension installed on your Google Chrome browser, and then you can login with just one click. Once you're logged in, you'll have full access to all of your favorite shows and movies. You can even add things to your queue so that they'll be there when you're ready to watch them.

And if you ever need to log out, simply click the extension icon again and select "Logout." It's that easy!
Netflix Cookies 2023
What are Netflix Cookies? Netflix cookies are text files that are stored on your computer by the Netflix website. They are used to remember information about your visit and help deliver a better experience when you return.

How do they work? When you visit Netflix, our servers send a small file (known as a cookie) to your device. This unique identifier allows us to keep track of your preferences and enhance your experience on the site.

For example, if you add items to your queue, we'll use cookies to remember those selections so you don't have to re-enter them each time you visit the site. Similarly, if you stop watching a movie midway through, we'll use cookies to pick up where you left off the next time you watch. We also use cookies for security purposes, such as detecting fraudulent activity and protecting member information.

Are they safe? Yes. Cookies cannot be used to deliver viruses or run programs on your computer.

Additionally, they cannot store personal information like your name or address – only the data associated with your account can be stored in a cookie.
Netflix Cookies Latest
In this post, we will be discussing the Netflix cookies latest. This is a very popular topic, as many people are curious about how to get their hands on the newest cookies from Netflix. We will go over what these cookies are and how you can get them for yourself.

Netflix cookies are pieces of code that allow you to access certain areas of the Netflix website that you would not normally be able to access. They are used to bypass restrictions and give you more control over your experience on the site. Many people use them to get around regional blocks, or to change their country settings so they can watch shows that are not available in their area.

There are a few different ways to get your hands on Netflix cookies. One way is to find someone who already has them and ask them for theirs. Another way is to search for them online.

There are many websites that claim to have the latest Netflix cookies, but it is important to be careful when downloading anything from the internet. Make sure you trust the source before downloading anything onto your computer. If you want to try and get your hands on some Netflix cookies without having to download anything, there are a few things you can do.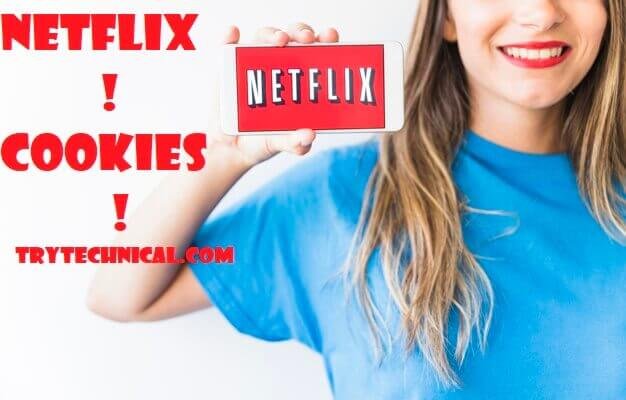 Credit: trytechnical.com
How Do I Use Netflix Cookies?
If you are looking to use Netflix cookies, there are a few things that you need to know. First of all, Netflix cookies are used by the website to store information about your account and preferences. This includes your login information, as well as your viewing history and any other data that you have inputted into the site.

Additionally, these cookies allow Netflix to keep track of your progress through the site so that they can offer you tailored recommendations based on what you have watched in the past. In order to use Netflix cookies, you first need to find a source for them. One way to do this is by searching for "Netflix cookie" on Google.

This will bring up a number of different websites that offer free or paid access to cookies. Once you have found a source for the cookies, simply download them and then import them into your browser. After doing this, you will be able to log into Netflix and access all of your account information just as if you were using your own username and password.

It should be noted that while using someone else's cookies is technically allowed under Netflix's terms of service, it is considered theft and may result in legal action being taken against you if caught.
Are Netflix Cookies Safe?
If you're worried about cookies and whether or not they're safe, you may be wondering if Netflix cookies are safe. While we can't speak for all cookies out there, we can say that the cookies used by Netflix are safe. Here's a little more information about our cookie usage:

What Are Cookies? Cookies are small pieces of data that websites store on your computer. They're used for a variety of purposes, such as keeping you logged in to your account, remembering your preferences, and generally improving your experience on a website.

Netflix uses both session and persistent cookies. Session cookies expire when you close your browser, while persistent cookies remain stored on your computer until they reach their expiration date or are deleted manually. What Do Netflix Cookies Do?

Netflix uses cookies for a variety of purposes, such as: -Keeping you logged in to your account -Remembering your preferences

-Improving the overall quality of our service
How Do I Clear Cookies in Netflix?
Assuming you would like tips on how to clear cookies in Netflix: If you're using a web browser, follow the instructions below. If you're using the Netflix app, refer to your device's help center for instructions.

From the browser menu, select Tools (or Preferences on Mac). From the Tools menu, choose Clear Recent History or Clear Private Data. If you don't see these options, choose Safari > Preferences > Privacy and click Remove All Website Data.

On the "Time Range to Clear" drop-down menu, choose Everything. Next to "Details", click the down arrow and select both Cookies and Cache. Click Clear Now.

Close all open tabs and windows, then restart your browser for changes to take effect.
How to Get a Free Netflix Account?
If you're looking for a free Netflix account, there are a few ways to go about it. The first and most obvious is to simply sign up for a free trial. Netflix offers new users a one-month free trial, which is plenty of time to decide whether or not the service is right for you.

All you need is a valid email address and credit card; once the month is up, your card will be charged unless you cancel beforehand. Another way to get a free Netflix account is by taking advantage of promotions that occasionally pop up from various companies. For example, earlier this year AT&T offered customers who signed up for its DirecTV Now streaming service a free year of Netflix.

And T-Mobile has been known to give away free Netflix subscriptions to its customers as well. So if you're already paying for another service, it's worth checking to see if there's any way to get Netflix included for free. Finally, if you have some friends or family members who are willing to let you borrow their login information, that's also an option.

Just remember that sharing passwords is technically against Netflix's terms of service, so do so at your own risk.
Conclusion
In this blog post, the author discusses how to delete cookies on Netflix. The author provides instructions for deleting cookies on both the website and the app. The author also includes a warning that deleting cookies may delete all saved data, including login information and preferences.