Ministry of Industries, job recruitment notice published by their official website at moind.gov.bd. Moind job circular, some new post 2022. Good news for that job seeker is that from time to time a new job circular for all government jobs is published. We also noticed and found on my website a job noticed and found on newjobsresult.com. Read more short information about the management bd job circular and then apply if you're qualified. Anyway, you can download the job application form & job notice board by moind teletalk com bd. The eighth-pass student also applies in this moind govt circular 2022. Today the Industries Ministry job circular is the most popular new government jobs circular in Bangladesh. It's a very good candidate, apply here. Now, you can visit their official website and download their application form to their job notice board. Then, you can keep visiting my newjobsresult.com.
Moind Job Circular in 2022
Many people find Government jobs such as Ministry of Industries jobs. Now the Ministry of Industries has published new jobs circular. Before applying Ministry of Industries' jobs through online, keep below this short information.
The online admit card download will start soon, and you can download the Bangladesh Ministry of Industries' job admit card from there website or our website, visit newjobsresult.com. Most of the job seekers find the Office of the Ministry of Industries' jobs circular in Google. If you also want to get jobs in Bangladesh, keep reading below this short information.
■ Publication Date: 01 December, 2022
■ Post Name: See follow job circular image
Job Type: Govt Jobs
■ Age Range: 18 to 30 years
Employment Status: Full-time
■ Starting Date: Already started
Salary : 8,250 – 26,590/-
■ Job Location: Dhaka
Source: Ittafaq
■ Apply Deadline: 31 December, 2022
Follow the image file and check now
---
বাংলাদেশ নিরাপদ খাদ্য কর্তৃপক্ষ নিয়োগ বিজ্ঞপ্তি
---
বিনা অভিজ্ঞতায় আইএফআইসি ব্যাংকে নিয়োগ বিজ্ঞপ্তি
---
জেলা প্রশাসকের কার্যালয়ে বিভিন্ন পদে নিয়োগ বিজ্ঞপ্তি প্রকাশ
---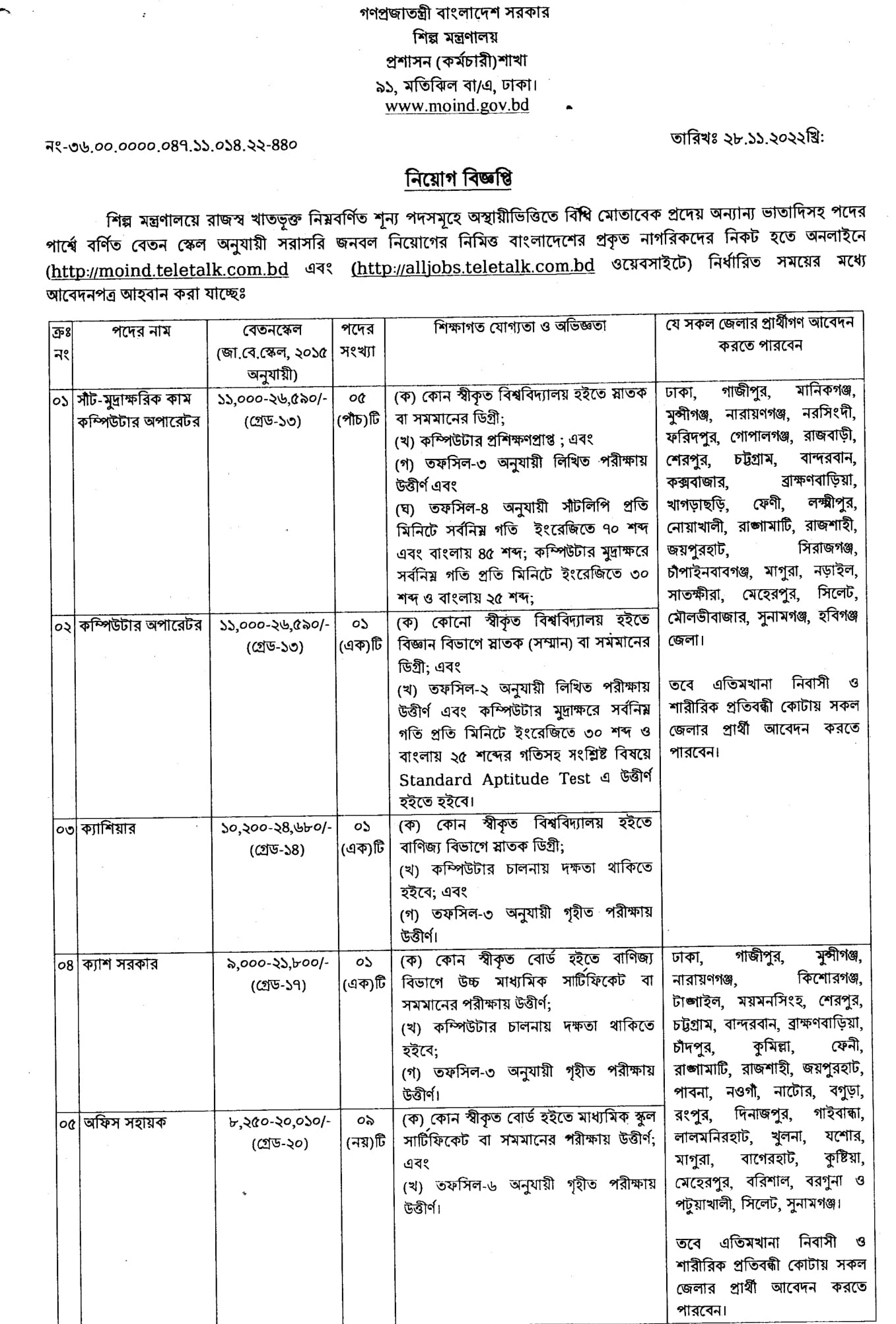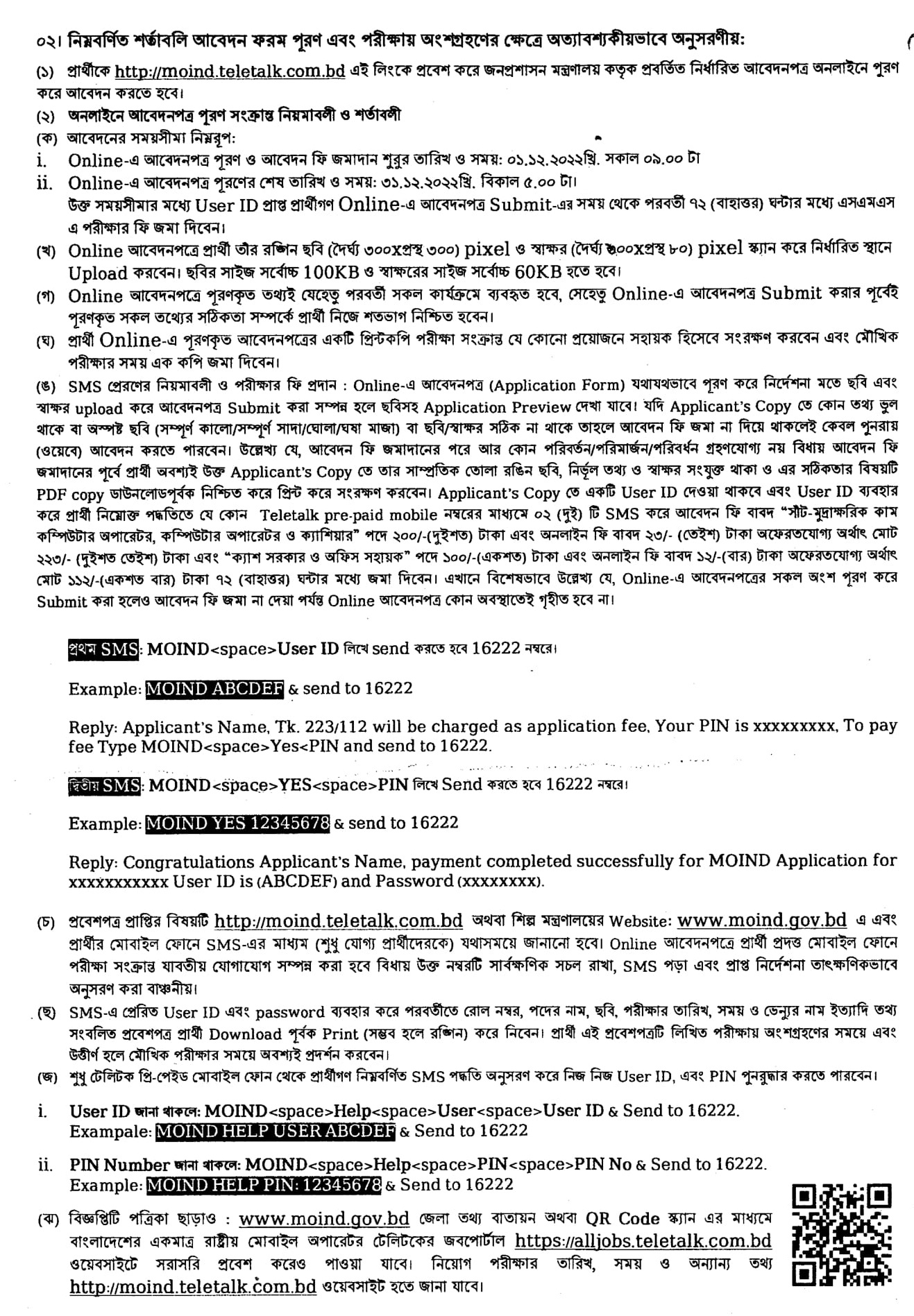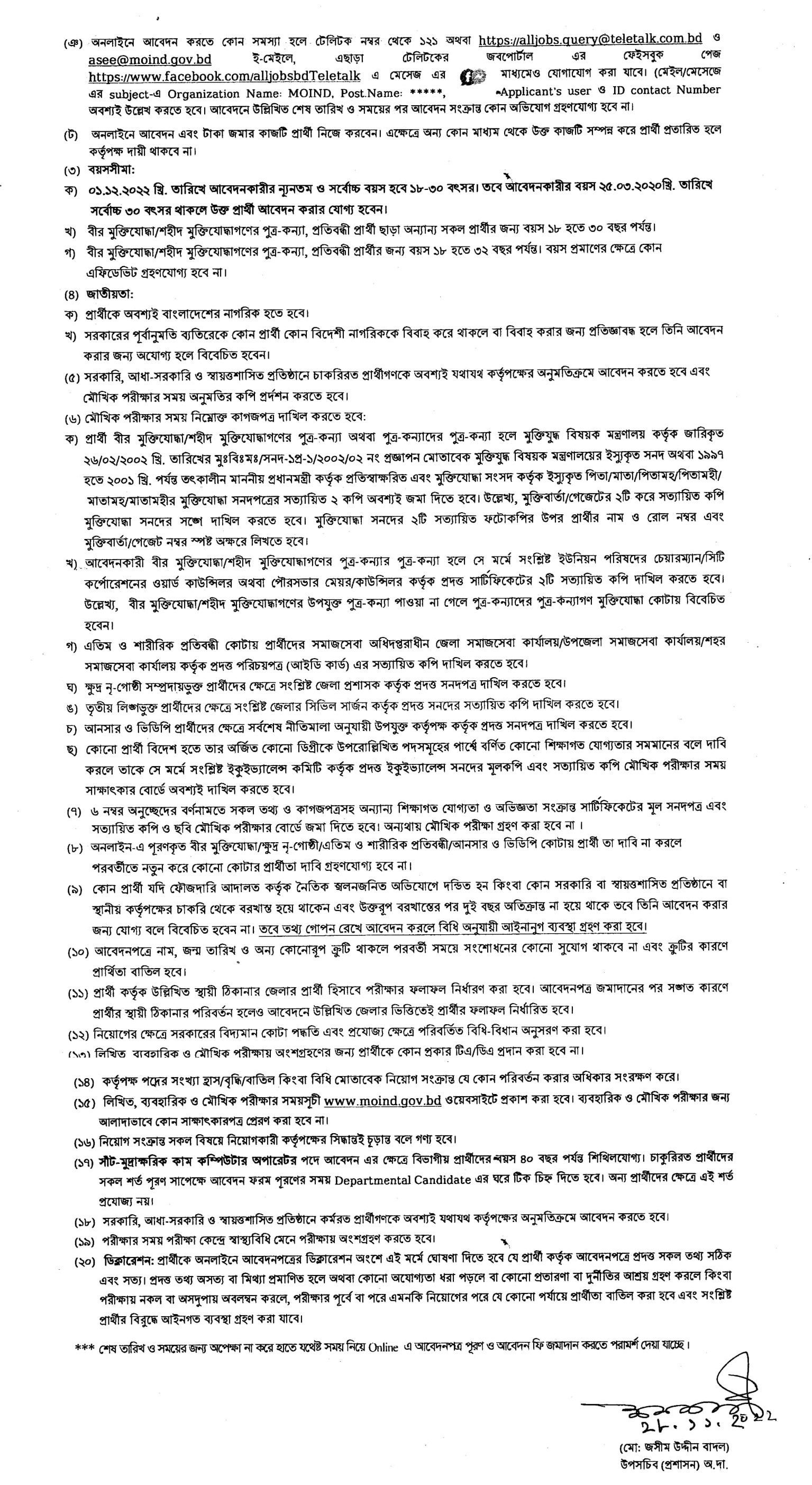 The Ministry of Industries has recently issued a recruitment notice. The company will hire manpower on a temporary basis. Those interested can apply online.
How to Mobile SMS For Moind Teletalk Application
(i) SMS: Moind < Space>User ID send to 16222
Example : Moind ABCDEF
Reply: Applicant's Name, Tk. 56 – 112 will be charged as application fee. Your PIN is (8 digit number)12345678.
To Pay Fee : Type Moind < Space>Yes< Space>PIN and send to 16222.
(ii) SMS: Moind < Space> Yes < Space>PIN – send 16222 Number
Example : Moind YES 12345678
Reply: Congratulations Applicant's Name, payment completed successfully for Moind Application for xxxxxxxxxxxxxx User ID is (ABCDEF) an,d Password (xxxxxxxx)
Moind Admit Card & Exam Date
www.moind.gov.bd Job notice also found on my website. Ministry of Industries Moind Written Exam Result, Ministry Industries Moind Test & Admit Card will be published by bd-career.org and by the official website at moind.com.bd.teletalk.com. The admit card download website link is available by bd-career.org. Let's Download your Moind job download admit card 2022.
Many candidates search for the Ministry of Industries, job exam date, admit card download notice etc. on Google. We are able to provide you with all information about this circular on our website. When online registration is complete, the candidate can be able to download their admit card through the Ministry of Industries' official website.
If you want to apply the Moind Job circular, you have to send your application for there CV. For the next update about the Ministry of Industries' vacancy notice, exam result etc., stay with us.
Share This Post..